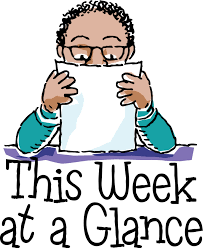 Week at a Glance:
Monday, Day 1 (K – A)
Sport Stacking Signup AM Recess for Grades 3 – 8 in MultiPurpose Room
Knoll Feeder Basketball Tournament for Senior Boys and Girls Teams and all grade 8s
Band Sectionals
Tuesday, Day 2 (K – B)
JLT meeting at noon
Junior Intramurals: Game 2
Senior Intramurals: Game 2
Boys Basketball Game @ Lakeview School
Wednesday, Day 3 (K – B)
Grade 6 – 8 @ Jamie McDonald & Balfour Arts Collective presentations @ Knoll PM
Pizza Hut Lunch Day
Thursday, Day 4 (K – A)
JLT Hot Chocolate Day with donations going towards Ronald McDonald House
Grade 8 Jr. Band Select
Girls Basketball home game
Junior Intramurals: Game 3
Senior Intramurals: Game 3
Friday
PD Day
No classes for students.
Have a great week.