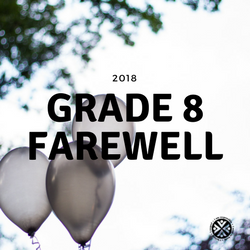 Parents / Guardians, March 1, 2018
It is time to start planning for the Grade Eight Farewell! The year is going by so fast! We just wanted to give you some information about Farewell/Year End and what to plan for…
Ceremony
 Tuesday, June 26 at 5:30 pm.
Inviting Guests for the Ceremony
We allow you to invite 5-6 guests (family members) per student to the ceremony. There are no formal invitations; we will send an email asking for numbers in May/June. If you are needing to invite more than 6 people just let us know. Please be aware we have to adhere to Fire Code Regulations.
After Party
In the past, parents have planned an "After Party" for the students which usually takes place in the gym right after the ceremony. Please plan to attend a parent meeting to discuss the After Party on Wednesday, March 14 at 5:30 pm in the library.
At the meeting, committees will be formed to gather emails, make decisions, organize bookings, etc. We will need a volunteer to be the Farewell Committee Leader. This person will be the contact person for each of the committees. They will organize a letter to send home to parents including information about cost per student, organizing a chaperone schedule, asking for food items (ie: last names starting with A-M please bring a small bag of candy..), etc.
We look forward to seeing you all at the meeting on March 14th!
Mrs. Yasinowski, Mrs. Smith & Mr. Corbin