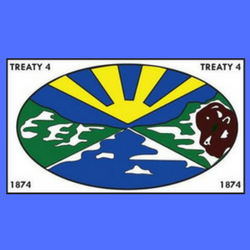 Treaty 4 Flag Raising
Wednesday, May 23rd
Demonstrating our commitment to Treaty Education and to reconciliation, Henry Janzen School will fly the Treaty 4 flag along with the Canadian Flag beginning May 23rd. The Treaty 4 flag signifies the continuing relationship between Indigenous and non-Indigenous people residing in Treaty 4 territory. It is of great importance that all students know the importance of understanding Treaties and how we are all Treaty people.
Before the first raising of the flag, the staff and any members of the community who wish to attend, will be participating a pipe ceremony to smudge the flag. The pipe ceremony will take place at approximately 12:00 p.m.
At 1 p.m. there will be an official flag raising ceremony for all students, staff and the community. Events will take place in the front yard of the school and will begin at 1 p.m. All are welcome to attend.