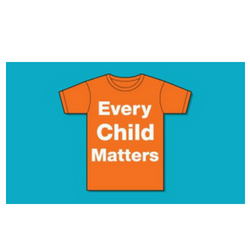 Orange Shirt Day - Friday, September 28th
This day recognizes the harm done to generations of children by residential schools and is an affirmation of our commitment to ensure that every child matters. Orange Shirt Day also recognizes our commitment to reconciliation, anti-racism and anti-bullying in general.
Residential schools operated across Canada between 1831 and 1996.  To promote better understanding of the effects of residential schools and to support the Truth and Reconciliation Commission's Calls to Action, Henry Janzen School will participate in Orange Shirt Day on Friday, September 2

8th

.  The orange shirt is used in honour of six year old Phyllis Webstad.  She entered the St. Joseph Mission Residential School, in 1973, wearing a brand new orange shirt that she adored, only to have it taken from her on the first day of school and replaced with the school's institutional uniform.  Her orange shirt was never returned to her. 
Orange shirt day is an opportunity for groups to come together in the spirit of reconciliation and hope for generations of children to come. Throughout the month of September, students will be learning about residential schools in age-appropriate ways.  We invite you to engage in conversations with your child(ren) about what they are learning.