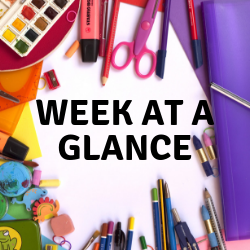 Library: ABSOLUTELY ALL STUDENT LIBRARY BOOKS RETURNED.  PLEASE HAVE YOUR KIDDOS RETURN BOOKS!!!! THE EARLIER THE BETTER!!
Monday, June 17th- Day 4
Grade 5 Band Recruitment all day

17th & 18th - Talent show rehearsals at lunch hour
Tuesday, June 18th-Day 5
Staff vs Student Softball game 12:45
Wednesday, June 19th- Day 1
Preschool Graduation in Library - 9:30 a.m.

4A & 4B at Science Centre

DHH Social Club 2:30-3:30
Thursday, June 20th- Day 2
Janzen Talent Show  AM- All classes invited
Friday, June 21st- Day 3
Swimming PM at Regent Pool- Grade 4: 1-2 pm and 5-8: 2-3 pm-

Grade 3 at Science Centre

Have an amazing weekend! Remember to be KIND and be AWESOME!