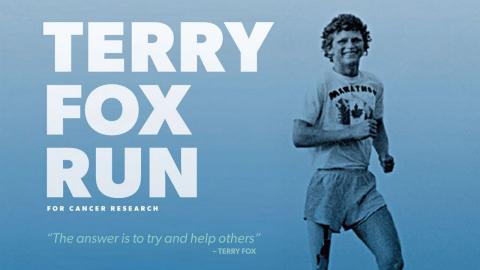 Dear Parents/Caregivers:
This year marks the 40th Anniversary of Terry Fox's Marathon of Hope and we are excited to share that Henry Janzen School will be proudly supporting this cause.  While this year's event might look a little different, the end result remains the same; to raise funds for cancer research. Let's all use Terry's message of hope and strength to inspire us during these challenging times.
 It is our priority to maintain the safety of students and staff while supporting this wonderful cause. To help support safety measures in all schools, all of our Terry Fox activities will be done within individual classes.
 In classes between October 5th – 9th students will be learning about Terry Fox's Marathon of Hope as well as taking part in a class mini-Terry Fox Run.  Please support our students fundraising efforts for this important cause by making a donation online using the information below.
Donate online https://terryfox.org/get-involved/ways-to-give/
We are very excited to be a part of this year's Terry Fox event.  This is our opportunity to make a difference in the lives of those suffering from cancer as well as build school spirit.  Thank you in advance for your support!
 Thanks!