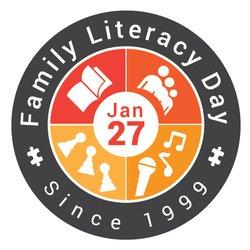 JANUARY 14, 2022 -- The Government of Saskatchewan has proclaimed January 27, 2022, as Family Literacy Day and January 23 to 29, 2022, as Family Literacy Week in Saskatchewan. The week provides opportunities for communities, libraries, schools and other organizations to plan events that raise awareness about the importance of family literacy. Parents with literacy skills support children to acquire literacy skills, contributing to strong families and strong communities.
You are invited to celebrate with the Saskatchewan Literacy Network and the nine Family Literacy hubs by joining a free livestream event on Thursday, January 27th at 10:30 a.m. CST. Local authors and illustrator Bernice Johnson-Laxdal and Miriam Körner will share from their book, "When the Trees Crackle with Cold: A Cree Calendar."
Everyone is welcome to join! Families, classrooms and groups can sign up to receive a free package of digital resources and a chance to win a signed copy of the book! Sign up at https://www.surveymonkey.com/r/TreesCrackle-SignUp
To view the poster, please CLICK HERE.